Post by NPGmaverick on Jun 7, 2006 0:05:10 GMT 2
I think this new section is too good to go naked. I review movies on another site, and since Stacy was in it, here's my review of "Poseidon"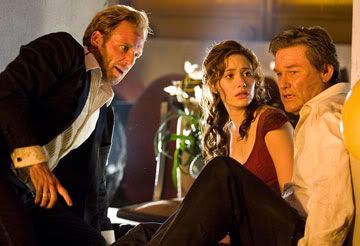 It's Summer and you know what that means, make with the action blockbusters! Let me tell you, gentle readers, that nothing gets me in the mood for fun in the sun quite like a good disaster movie! A heart breaking story soaked in tragedy and covered in blood is just what the doctor ordered for the dog days of...er, May.
From the gaping hole where original story-telling used to live in Hollywood comes "Poseidon", a spiffy re-make of 1971's "The Poseidon Adventure". I'm a huge fan of the original (and you thought I was being sarcastic in the first paragraph) and from what I had heard, this movie was a disaster in every sense of the word and I have to say, it was actually not bad. I don't want to imply that it was excellent, but it is a far superior film to what I had heard it was.
For those unaware, the story involves a giant luxury cruise liner that turns upside down on New Year's Eve after a rogue tsunami-like tidal wave appears out of nowhere (Hollywood is so supercute) and brings down a wrath on Poseidon as terrible as it is sudden. A select few passengers decide to follow our hero Josh Lucas up to the bottom of the boat to safety, because he's way good-looking, which means he knows what he's doing. The film also stars the delightful Emmy Rossum, the leathery Kurt Russell, the eldery Richard Dreyfuss and a particularly impressive performance from former MTV "Real Worlder" Jacinda Barrett as a young Mother. Even Stacy Ferguson takes a break from her day job as the ethnically-challenged Black Eyed Peas front woman to shake her hump (her hump, her hump, her hump) as a night club singer on the boat. She shows off the kind of acting chops that only 5 seasons on "Kids Incorporated" can earn one and touts herself as a shoe-in to play Charro in the big screen version of "The Love Boat". That swarthy guy from "Entourage" rounds out the cast by playing the swarthy guy in this movie. I'd give you their character's back-stories, but is that really why any of us are watching this movie? I mean, come on.
It's all nail-biting action and bad-ass special effects. The actors on screen seem as though they are actually trying to make you care about the paper-thin archetypes they're portraying throughout, so 'em throw them a bone and an enjoyable cinematice experience will follow. Pass that popcorn and settle in for some Summertime carnage!